Worldwide users are unable to reach popular websites due to Amazon Web Services mega-outage
Reports are that Amazon Web Service (AWS) facility in the state of Virginia, United States suffered a mega outage issue forcing some of the Internet's top websites down.
This mega-outage knocked offline not only websites, but also knackered apps and IOT gadgets relying on the technology. Ironically, IsItDownToday.com, a service dedicated to informing users about sites suffering outages was itself experiencing an outage.
In fact, the five-hour breakdown was so bad, Amazon couldn't even update its own AWS status dashboard. Its red warning icons were stranded, hosted on the broken-down side of the cloud.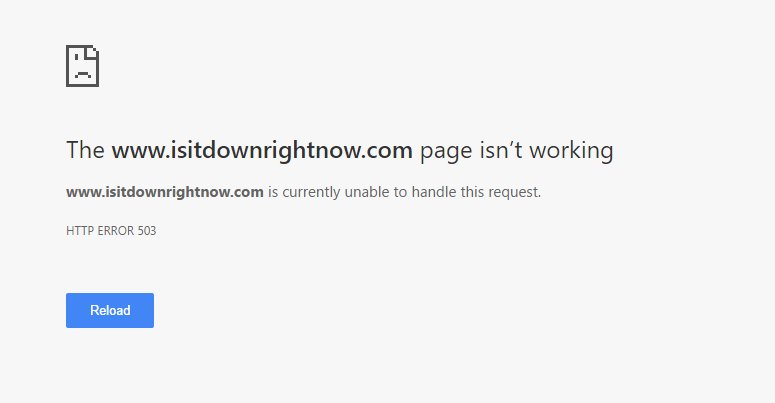 According to SimilarTech, AWS' Amazon S3 service is used by 148,213 sites including Pinterest, Netflix, Spotify and some Gannett systems. While not all were affected by the outage, some experienced slowdowns.
In a statement, Amazon said that ''We've identified the issue as high error rates with S3 in US-EAST-1, which is also impacting applications and services dependent on S3. We are actively working on remediating the issue.''
AWS has many regions, and US-East-1 is just one of them. Developers are supposed to spread their applications over different data centers. So when one region goes TITSUP, it doesn't take your whole platform down.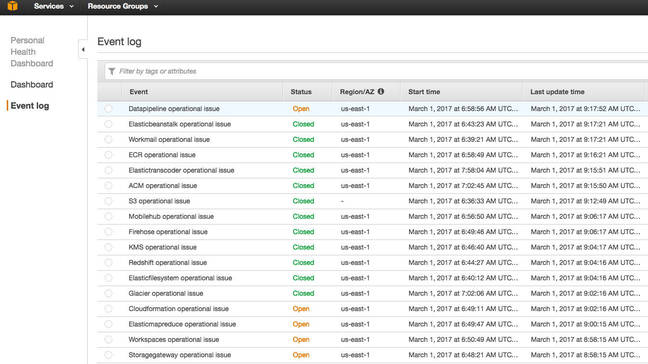 An exhaustive list of things that fell over due to the S3 downtime, includes Docker's Registry Hub, GitHub and GitLab, Quora, Medium, Signal, Slack, Imgur, Twitch.tv, Razer, Adobe's cloud, Coursera, Bitbucket, Autodesk's cloud, Expedia, Flipboard, and Yahoo! Mail and other popula sites.
Other AWS services knackered in the data center include: Elastic File System and Elastic Load Balancing, Simple Email Service, Relational Database Service, Lambda, Elastic MapReduce and Elastic Beanstalk.
In addition to websites and hosted services that were affected by the outage. A number of IoT products also rely on S3 buckets, and were thrown for a loop by the downtime.
RESOLVED Increased Error Rates for Amazon S3
 Update at 2:08 PM PST :   As of 1:49 PM PST, we are fully recovered for operations for adding new objects in S3, which was our last operation showing a high error rate. The Amazon S3 service is operating normally.
Update at 1:12 PM PST :   S3 object retrieval, listing and deletion are fully recovered now. We are still working to recover normal operations for adding new objects to S3.
Update at 12:52 PM PST :  We are seeing recovery for S3 object retrievals, listing and deletions. We continue to work on recovery for adding new objects to S3 and expect to start seeing improved error rates within the hour.
Update at 11:35 AM PST :  We have now repaired the ability to update the service health dashboard. The service updates are below. We continue to experience high error rates with S3 in US-EAST-1, which is impacting various AWS services. We are working hard at repairing S3, believe we understand root cause, and are working on implementing what we believe will remediate the issue.
Update at 10:33 AM PST :  We're continuing to work to remediate the availability issues for Amazon S3 in US-EAST-1. AWS services and customer applications depending on S3 will continue to experience high error rates as we are actively working to remediate the errors in Amazon S3.
AWS has not yet said what the exact nature of the problem was.